After working on a couple of photo projects that have taken me years to complete (Images That Change the World, Who Are They?), in January this year I was given the refreshing task of taking all the photos for a photo exhibition in one day.
"Youth. Identity. Diversity." is a photo exhibition consisting of my pictures of 19 young people from the southern Norwegian city ​​of Kristiansand, taken at a school photography pace on January 17 at the Kristiansand public library, and interviews with the youth about their thoughts on norms, ideals and prejudices tied to gender, sexual orientation and ethnicity.
So far it is unclear if the exhibition will get border-crossing legs, so I thought I would publish some of the pictures here.
The exhibition is a collaboration between Kristiansand public library, Skeiv Ungdom, Senter for likestilling and me.
Victor and Håkon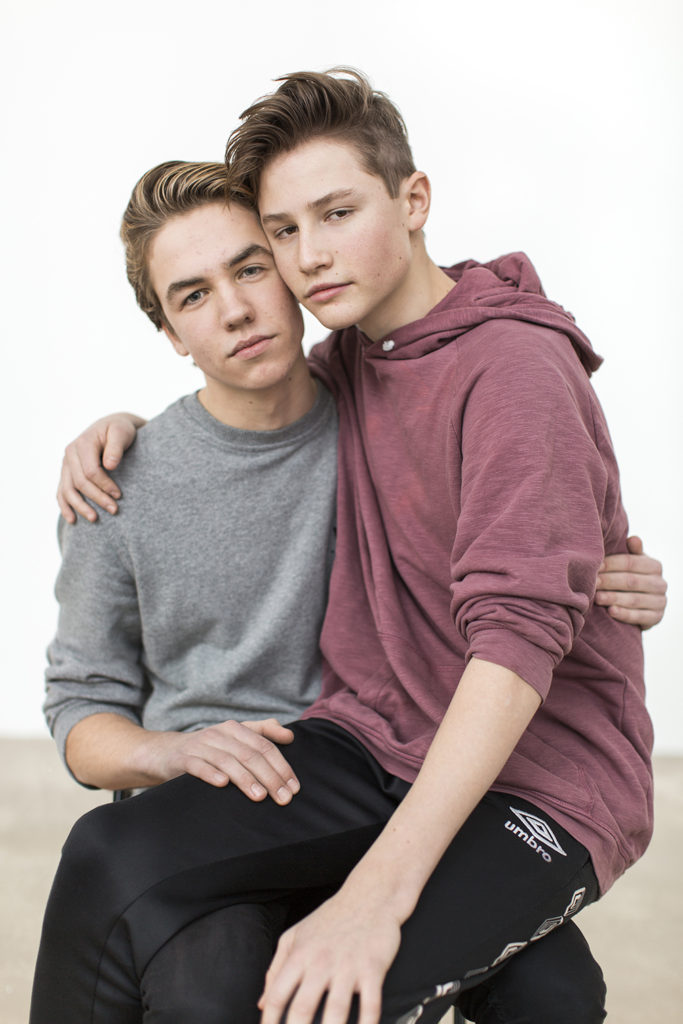 When Victor and Håkon entered the art hall, I thought: these sporty, popular guys probably won't want to take too non-macho pictures.
I was completely wrong. Victor and Håkon was enthusiastic about the 19th century photos I showed during my workshops of men who, at that time, had an untroubled relationship with physical proximity and to expressing their love for their friends in pictures (I wrote about it in my blog post Men's thighs were more used before). I don't think I could be more satisfied with the result in the photo above, which I think has zero distancing backslapping-vibe.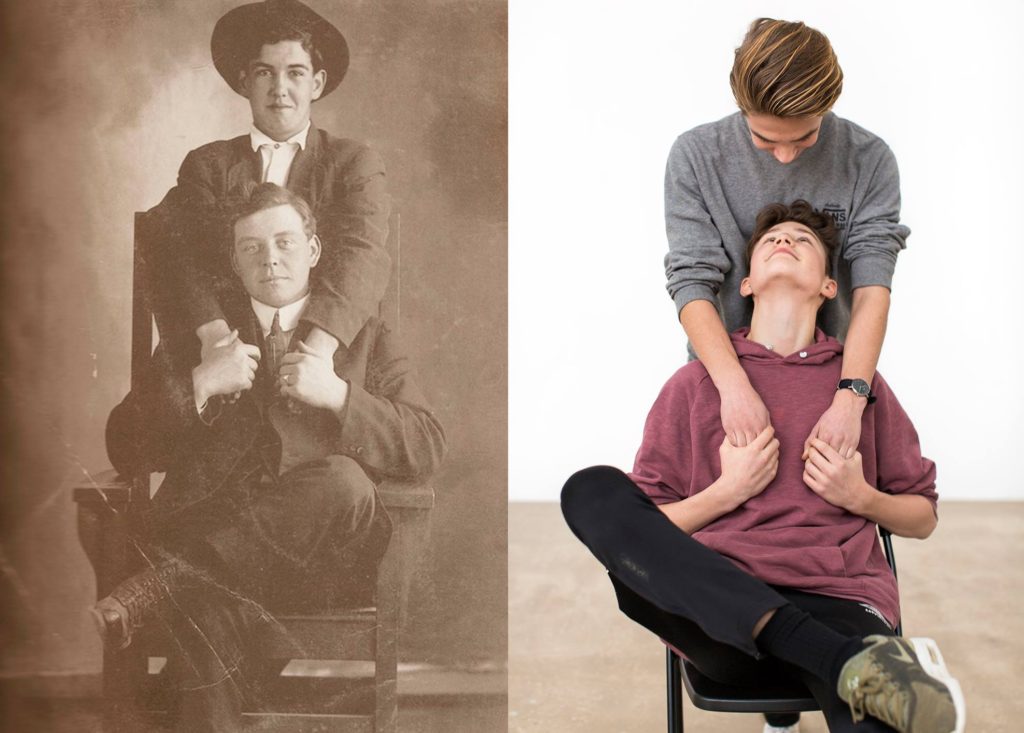 In itself a bit of "masculine" behavior by Victor and Håkon; how competitively they tried to outdo their 19th century BFF soulmates … in cuteness!
Line
A #womanspread by Line. Inspo for you who will take a seat in public transport or a TV sofa soon.
Motaz
"I don't like to smile in the picture," Motaz said in his interview. That's why we screened away a whole bunch of pictures where Motaz laughed and smiled at the picture. But this corner of the mouth-smile passed!
Izabella and Amalie
Izabella and Amalie had their posing idea ready when entering the room. Convenient when others do your job for you!
Abdallah, Hussein och Waad
I took a lot of pictures of Abdallah, Hussein and Waad as they stood and looked like this and looked into the camera, but I thought this – when they didn't – became the most intimate. When they focus completely on each other.
Henrik
Henrik. Sophisticated and overdressed. I like the combination of the 'come at me bro' pose, which, according to Henrik, was ironic, and the semicolon tattoo.
Teodor, Neisse and Nada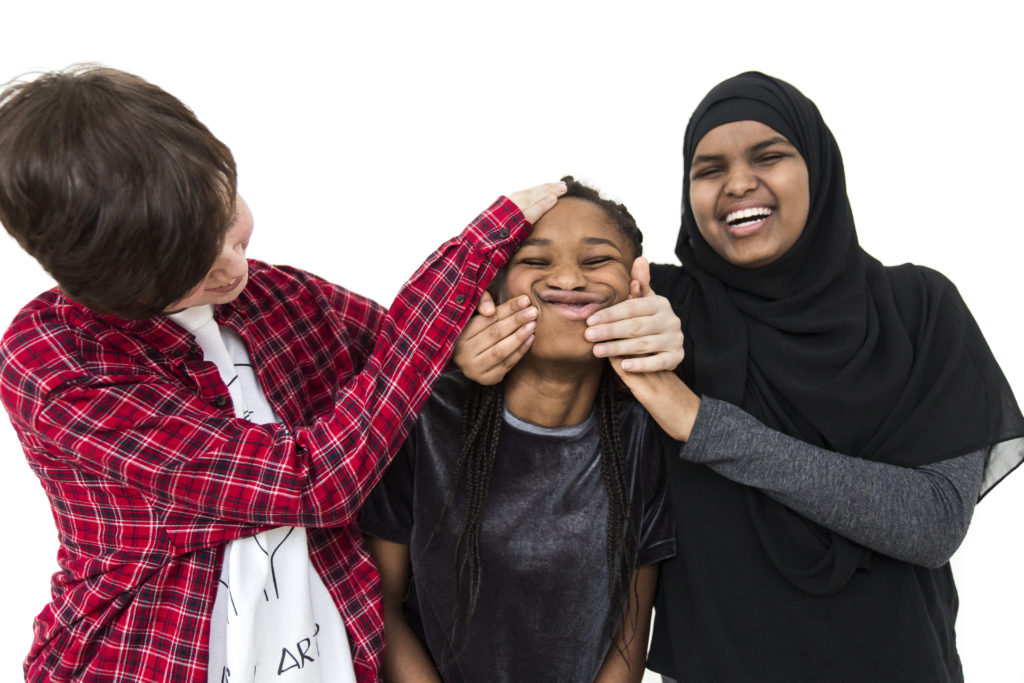 This gang. Theodor, Neisse and Nada. Came in and owned the Art Hall. I almost too many good pictures of them. It was hard not to capture their infectious energy and fantastic charisma.
Nelle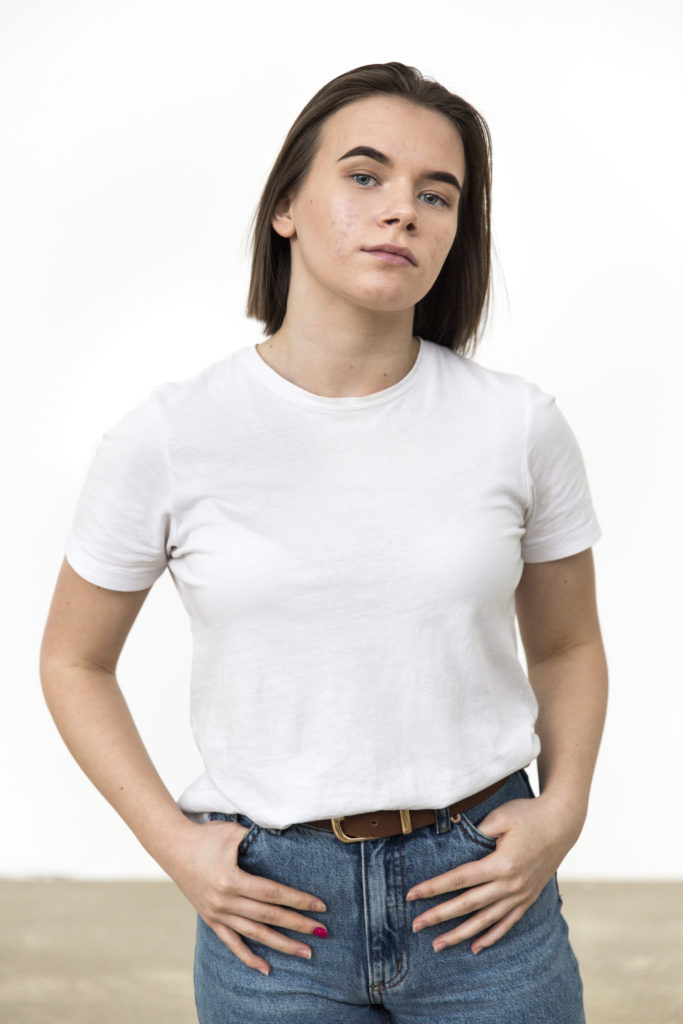 The hands in my pockets were my idea. Nelle's confident look came with her into the room.
Camilla and Tine / Victoria
Camilla and Tine – demonstrating that no stoneface is needed to radiate authority. And Victoria – who demonstrates that a stoneface always works.
Hanna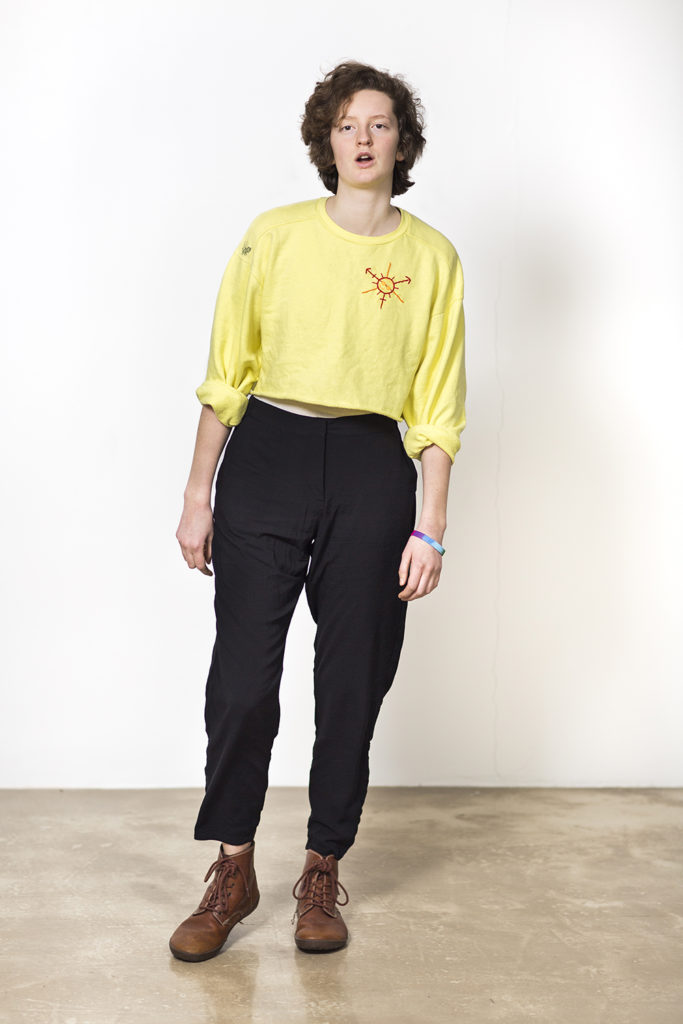 Hanna, who is non-binary. With the upper image we tried to get a masculine expression with the help of movement and lines. I asked them to walk a lap in the room, stop at the same spot and say "GO AWAY" to the camera. A simple trick for a masculine, cheeky look.
The lower picture was actually also thought of as a masculine pose first. Hanna had to pull her hand through the hair reminiscent of a sulky James Dean. But just in this frame I happened to capture Hanna's hand as it left their hair, and got this softer and gender–norm/body language-wise more ambiguous and interesting image, which also became one of Hanna's favorites.
Aman
For the interview that was done with Aman after the photo shoot, he was asked if he got to pose in any way than he usually doesn't in photos.
"Yes, I got to sit with my leg up and things like that. Like a boss, right?"
Comfortably sitting with leg folded in the lap like a boss. Warmy smiling with his head tilted to the side, like a boss. (If it happened to be a woman.)
Youth. Identity. Diversity. will be touring in southern Norway (Agder), then the rest of Norway, then maybe in the rest of Scandinavia. The photo exhibition's itinerary can be followed via Kristiansand Folkebibliotek's facebook.